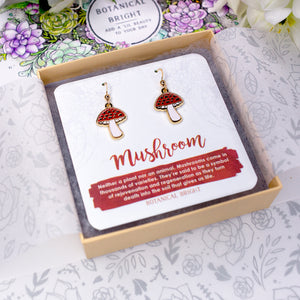 Neither a plant nor an animal, Mushrooms come in thousands of varieties. They're said to be a symbol of rejuvenation and regeneration as they turn death into the soil that gives us life.

DETAILS
Small and dainty charms which are about .7" tall

Gold and Silver Plated Brass Charms

Sterling Silver or Gold-Filled Earwires 
GIFTING
You can include a Gift Note when you Add to Cart just don't forget to say who it's from! =) Each piece is packaged in a Jewelry Box. Invoices are not included in packages.