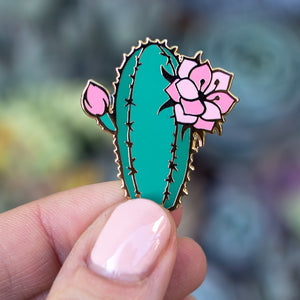 Blooming Cactus Enamel Pin
Cacti are considered a symbol of strength & endurance as they can often survive extreme weather conditions. A 'lil reminder that you can work through whatever life throws at you! 

This particular design was inspired by Echinopsis, which includes a large variety of cacti species (many different shapes and sizes) with big colorful flowers that often only bloom for one day!
Each Pin is about 1.25" Tall